This review is taken from PN Review 246, Volume 45 Number 4, March - April 2019.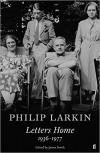 Walking the Tightrope

Philip Larkin: Letters Home, 1936–1977, ed. James Booth (Faber) £40
Larkin once said of his poems, 'I treat them like a music-hall bill: you know, contrast, difference in length, the comic, the Irish tenor, bring on the girls'. Larkin's long-awaited Letters Home feels very much like a book constructed in this light, and reads, rather inexplicably, like a body of work shaped and crafted by Larkin to be read as, you guessed it, a book, of poems even, not merely a collection of letters.

Letters Home comprises some 607 letters and postcards, 475 of which are from Philip to his mother, Eva, whom he affectionately calls: 'My dear old creature', and to whom he writes daily, even twice daily during certain periods of his life. These letters chart Larkin's most intimate and longstanding relationship. And they are unlike any other collection of letters I have ever read. As the sheer volume of correspondence suggests, this trawling catalogue records every conceivable chapter of Larkin's life: from university, to a first tentative mention of librarianship by his father, Sydney: 'As regards the School of Librarianship, I suppose that is the thing to do, if you contemplate making a permanent thing of that profession', to the morning his second novel, A Girl in Winter, was glowingly reviewed in the Sunday Times: 'Well, I began to read it, but it was so marvellous that I had great difficulty in reading to the end.'

But Letters Home also vitally recounts many important moments in British history. Larkin's first letter to his parents ('Mop' and 'Pop') upon arriving at St John's College, Oxford, in ...
The page you have requested is restricted to subscribers only. Please enter your username and password and click on 'Continue'.
If you have forgotten your username and password, please enter the email address you used when you joined. Your login details will then be emailed to the address specified.
If you are not a subscriber and would like to enjoy the
271
issues containing over
11,000
poems, articles, reports, interviews and reviews, why not
subscribe
to the website today?