This review is taken from PN Review 241, Volume 44 Number 5, May - June 2018.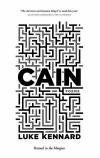 Going, Going
Cain, Luke Kennard (Penned in the Margins) £9.99
– I really gotta go. You don' make sense.
– I don't try to. Get with it.
John Berryman, The Dream Songs (1964–68)

I recently went to hear Luke Kennard give a reading in the sunlight-filled conservatory of the Botanical Gardens in Oxford. It was uncomfortably hot and the humid air was difficult to breathe. Towards the end of the event, as Kennard read from his latest collection, Cain (2016), I felt as though I'd drifted into something else entirely, my clothes now sticking to my skin. This was no longer the experience I'd signed up for, but something more, like I was being gently punished for a crime I didn't commit but which I'd somehow been seduced into confessing I was guilty of.

Cain is a book concerned with making sense: of Cain, of art, of us, of it. 'That you were marked all scholars can agree', begins the opening poem, which examines the various religious and imaginative understandings of the Old Testament Cain, 'but where, how, why and if it worked presents / the reader some perplexity'. Cain is full of marks and their interpretations, from the man whose family has arranged to have him exorcised – although the priest finds nothing wrong with him – to a culture unaccountably obsessed with zombies.

The central interrogation of the book presents a fictionalised Luke Kennard, who, after suffering the irreversible loss of 'my faith and my marriage in the same week,' is visited by Cain in the (dis-)guise of a Community Psychiatric Nurse. With Cain's ...
The page you have requested is restricted to subscribers only. Please enter your username and password and click on 'Continue'.
If you have forgotten your username and password, please enter the email address you used when you joined. Your login details will then be emailed to the address specified.
If you are not a subscriber and would like to enjoy the
271
issues containing over
11,000
poems, articles, reports, interviews and reviews, why not
subscribe
to the website today?