This review is taken from PN Review 235, Volume 43 Number 5, May - June 2017.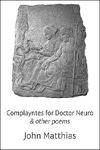 'I heard upon a day…'
John Matthias, Complayntes for Doctor Neuro and Other Poems, £9.95;
At Large, £16.95;
Jeremy Hooker, Diary of a Stroke, £12.95 (all Shearsman Books, 2016).

With these three volumes by John Matthias and Jeremy Hooker, Shearsman Books continues its record for publishing authors whose work persistently engages with broader issues and a deeper concern for form than the now predictable, workshop product poem. The two men have much in common. Both born in the dark year of 1941, they remember the deceptive certainties of a 1950s childhood and the heady unorthodoxies of the 1960s, and have presided over influential teaching programmes in their respective countries, the US and the UK, each with notable stints on either side of the Atlantic. They are also admirers of each other's work. But what is most significant about them is that they are acutely and constantly in touch, in their poetry, with particular 'innovative traditions' that they have both drawn on and added to. By this I mean an openness to experience that does not deny its relationship to the past, and a willingness to address large philosophical and theological questions through the medium of poetry, where many others seem to have lost their nerve.

John Matthias's output has been prodigious: since his first collection in 1970, he has published not only sixteen more volumes of verse, but also plays, essays, novels, anthologies, acclaimed translations from the Swedish, and in-depth studies of the poet and painter, David Jones, whom Matthias consistently championed right through an era when Jones had fallen out of fashion. This last enthusiasm is telling: Matthias is heir to a complex set of influences, something which has helped ...
The page you have requested is restricted to subscribers only. Please enter your username and password and click on 'Continue'.
If you have forgotten your username and password, please enter the email address you used when you joined. Your login details will then be emailed to the address specified.
If you are not a subscriber and would like to enjoy the
271
issues containing over
11,000
poems, articles, reports, interviews and reviews, why not
subscribe
to the website today?