This review is taken from PN Review 235, Volume 43 Number 5, May - June 2017.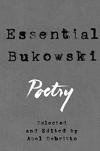 I Was Once Unbelievably Young
Charles Bukowski, Essential Bukowski Selected and edited by
Abel Debritto (4th Estate, 2016), £25.99;
Ben Lerner, No Art, (Granta, 2016), £14.99

I remember seeing Mark Hanauer's photograph of a laughing Bukowski once before somewhere, possibly on a T-shirt. Seeing it again on the cover of 4th's Essential Bukowski, however, I realised that the picture isn't so straightforward. At best, Bukowski seems to be laughing at us, teeth bared. At worst, he's maybe screaming. Because the photograph is split down the middle – the other half appearing on the book's rear cover – I was reminded of Batman's enduring enemy, Harvey 'Two-Face' Dent, whose obsessive, near-schizophrenic personality encourages him to leave important criminal decisions to the flipping of a coin, damaged on one side during the same acid attack that left him facially disfigured.

New editions of Bukowski's poetry have been fairly consistent since his death in 1994. Many editors have attempted to sift the poems – including the unpublished thousands – into thematic or associated clusters, as in Abel Debritto's recent three-volume series, On Writing, On Cats, and On Love. 'With more than twenty Charles Bukowski poetry books now available in print,' writes Debritto, who returns as curator, also, of the ninety-two poems published here, 'an essential collection has been long overdue.' But essential to what, I found myself wondering, and to whom?

'Bukowski distils life into its very essence,'

Debritto continues, 'squeezing the magic out of the ordinary with his unmistakable, surpassing simplicity'. Ordinariness, certainly. Bukowski wanders the familiar landscape of these poems bleary-eyed, sometimes looking and sometimes not: 'today I walked in the sun and streets / of this city,' ...
The page you have requested is restricted to subscribers only. Please enter your username and password and click on 'Continue'.
If you have forgotten your username and password, please enter the email address you used when you joined. Your login details will then be emailed to the address specified.
If you are not a subscriber and would like to enjoy the
266
issues containing over
10,800
poems, articles, reports, interviews and reviews, why not
subscribe
to the website today?