This review is taken from PN Review 235, Volume 43 Number 5, May - June 2017.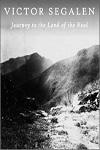 Exoticism
Victor Segalen, Journey to the Land of the Real,
translated by Natasha Lehrer (Atlas Press, 2016) £12.50

Natasha Lehrer titles her beautiful first translation of Victor Segalen's posthumously published (1929) Equipée (expedition, adventurous quest) Journey to the Land of the Real. Why not? It is Segalen's own subtitle to his China travelogue in twenty-eight chapters, which takes him as far as the Tibetan border. Indeed, in Chapter 10 he himself hums and haws over his 'motto-title'.

Victor Segalen was born in Brest, Brittany in 1878. He died in unexplained circumstances in the Brittany forest of Huelgoat in 1919, a deep cut on his ankle, Shakespeare's works close by, open at Hamlet. Professionally, he was a naval doctor and archaeologist who spent a great deal of time in China with his wife and son and daughter. Before that he was a doctor in Tahiti, arriving there three months after Paul Gaugin's death, whose affairs he settled. Segalen's works include a study of the great statuary of China, two novels, essays, prose poems on imagined Chinese Paintings, and an astonishing collection of invented poem-translations from Chinese, Stèles, several times translated. By far the most rewarding is Timothy Billings and Christopher Bush's two-volume edition, including exhaustive analysis (Wesleyan University Press, 2007), which also reproduces the original French-language plates.

'Everything is set, but do I actually have the right to leave? Constructor of the imaginary, conjuror of these imponderable and maddening materials, words'. Segalen's Journey is no ordinary travelogue but full of doubts and exploits in and out of and around his head. It reminds of another exceptional conceit of a mountain trek, ...
The page you have requested is restricted to subscribers only. Please enter your username and password and click on 'Continue'.
If you have forgotten your username and password, please enter the email address you used when you joined. Your login details will then be emailed to the address specified.
If you are not a subscriber and would like to enjoy the
259
issues containing over
10,500
poems, articles, reports, interviews and reviews, why not
subscribe
to the website today?