This review is taken from PN Review 259, Volume 47 Number 5, May - June 2021.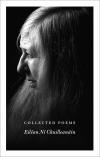 Goings and Comings
Eiléan Ní Chuilleanáin, Collected Poems (Gallery Press)
Eiléan Ní Chuilleanáin's Collected Poems is nothing less than a fifty-year dialectic on the purpose and possibility of poetry. Spanning nine collections, a near-dozen new poems and a coda of works in English and as Gaeilge, it stands as Ní Chuilleanáin's masterpiece, exhibiting her journey from confident apprentice to assured master of her craft.

Her first three collections, represented rather than republished in full, engage with notions of time. In Acts and Monuments time is expansive: poems stretch from pre-conception to the afterlife; from myth to modernity; from the 'Antediluvian' to the 'Forseeable Future', all in the turn of a page. In Site of Ambush, time is a more singular force to which the body must capitulate, be it unknowingly, as in 'The Absent Girl', or defiantly, as in 'The Persians'; unromantically, as in 'Site of Ambush' or with an eye to reincarnation, as in 'House of the Dead'. In The Rose Geranium we find a balance between the two. The poems engage with time in a smaller, more intimate way: the 'Cork' sequence with its familiar streets, the well-known walls and rooms of 'A Gentleman's Bedroom', the light and shadows of a snug.

The three collections which follow reveal a poet who is increasingly concerned with how time is kept: the legacy of records and the burden of secrets, particularly as they pertain to women. The Magdalene Sermon is full of narratives of habit, desire and devotion, with many of its poems concerned with the liminal space that exists between a performance and what it seeks ...
The page you have requested is restricted to subscribers only. Please enter your username and password and click on 'Continue'.
If you have forgotten your username and password, please enter the email address you used when you joined. Your login details will then be emailed to the address specified.
If you are not a subscriber and would like to enjoy the
265
issues containing over
10,700
poems, articles, reports, interviews and reviews, why not
subscribe
to the website today?