This review is taken from PN Review 256, Volume 47 Number 2, November - December 2020.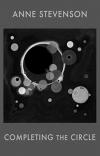 Anne Stevenson, Completing the Circle (Bloodaxe Books) £10.99
In her latest book, Completing the Circle, Anne Stevenson (now in her eighties) surveys her past from what she calls 'the viewpoint of a bewildered survivor... these poems cannot help facing up to the realities of time passing and beloved contemporaries dying'. This beautifully conveys a sense of the book as a whole.

The collection is a mixture not only of forms (sonnets, lyrics, meditations, narratives, lighter pieces) but also of themes and approaches. Its shifts of mood and subject matter (including science, music, philosophy, history), Stevenson suggests, might be considered part of the process of ageing.

The book opens and closes with a sonnet. The first, 'Anaesthesia', mourns the loss of friends 'so long depended on / To warm deep levels of my memory'. Yet this, she thinks, needs to be accepted with a kind of stoicism: 'There's nothing we can do but let it be'. Diminished, though, by these losses, she concludes: 'There's less and less of me that needs to die./ Nor do those vacant spaces terrify'.

There are elegies – for artists such as jazz singer Sandi Russell, poet Lee Harwood, pianist Bernard Roberts – and for a friend from high school days in Ann Arbor, Michigan. A blue-glazed bowl (another gift from a friend) 'holds my thoughts of you / choosing the bowl, and your thoughts / choosing it for me'. In this way a kind of 'afterlife becomes / as in your paintings, possible'. This is not to do with memory exactly or conversation; she describes these encounters thus: 'Like poetry / your visits ...
The page you have requested is restricted to subscribers only. Please enter your username and password and click on 'Continue'.
If you have forgotten your username and password, please enter the email address you used when you joined. Your login details will then be emailed to the address specified.
If you are not a subscriber and would like to enjoy the
272
issues containing over
11,000
poems, articles, reports, interviews and reviews, why not
subscribe
to the website today?