This review is taken from PN Review 256, Volume 47 Number 2, November - December 2020.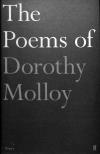 Dorothy Molloy, The Poems of Dorothy Molloy (Faber & Faber) £16.99
Dorothy Molloy's poetry is rooted in a pre-Reformation world numinous with religious signs and symbols. Born in 1942, she moved as a student from the strict Catholicism depicted in Edna O'Brien's novels to the more joyful traditions of Spain. But this was Franco's Spain before the decades of mass tourism, Costa del Sol, Costa del Crime and supermarkets full of chorizo, take-away paella and endless ruddy bottles of Rioja, which can be a most redeeming feature. And it informs the spirit of her poetry, not so much as a loss of innocence as a gaining of knowledge, where she affirms her faith not with quiescent piety but rather a heart-filling radiant joy in the created world, despite all the stones placed in the pilgrim's path.

Under Franco's rule, and still pole-axed by the Civil War, the country had remained a mainly rural backwater alienated from its internationally celebrated but exiled painters, poets and filmmakers: Picasso, Dalì, Alberti, Buñuel (to say nothing of the poet Federico Garcia Lorca, assassinated in 1938). In many ways it was virgin territory, ruled by images of the Virgin, a backcloth that could be moulded into whatever youthful fantasy one wished and, if still virginal, Dorothy Molloy had a lively imagination to cloak it with her imagery. But it was also still the world of Hemingway, that aficionado of death in the afternoon in la corrida.
In 'Trophy' the end of the bull is described as 'the dagger/plunged to the hilt in its scabbard/of flesh'; the audience erupts in hedonistic approval, men throwing ...
The page you have requested is restricted to subscribers only. Please enter your username and password and click on 'Continue'.
If you have forgotten your username and password, please enter the email address you used when you joined. Your login details will then be emailed to the address specified.
If you are not a subscriber and would like to enjoy the
271
issues containing over
11,000
poems, articles, reports, interviews and reviews, why not
subscribe
to the website today?