This review is taken from PN Review 256, Volume 47 Number 2, November - December 2020.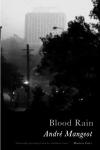 André Mangeot, Blood Rain (Seren) £9.99
Blood Rain
is André Mangeot's third collection of poetry, his first since 2005, his first from Seren. In that interval he has published two volumes of short stories,
A Little Javanese
(2008) and
True North
(2010). This new collection of fifty-three poems, divided into four sections, covers a wide ground, and is best summed up, perhaps, by a line from the very first poem,
Oxbow
:

The breath
of memory, and something else, across our shoulders.

There are sonnets in various guises, elegies for dead friends or relatives, love poems, and narrative poems. He has a sharp eye, and uses the sound and feel and taste of his words to capture his images. His rhythms change to match the physical exertion he's describing.
Heart
, an account of climbing with a companion in the Lake District, begins energetically: 'Impatient, our first afternoon/we boot straight up, waterproofs and rucksack//strike out through the mizzle', slows down as the climb gets tougher 'Skin chilling as the cloud-mists settle,/ weaves and licks around the map, the dotted track/we hold but cannot see …' and collapses at the summit/climax: 'helpless, weeping on the mountain –//and you there in your rattling hood, brim-full of it.'
His use of places, the outdoors, is an effective route to memory. In the tender love poem,
Oxbow
, he writes, '… the river turned its back and took another path'. This recalls a precise image but also Thom Gunn's 'the river turns to see/Whether you follow still' (
In Praise of ...
The page you have requested is restricted to subscribers only. Please enter your username and password and click on 'Continue'.
If you have forgotten your username and password, please enter the email address you used when you joined. Your login details will then be emailed to the address specified.
If you are not a subscriber and would like to enjoy the
271
issues containing over
11,000
poems, articles, reports, interviews and reviews, why not
subscribe
to the website today?