This review is taken from PN Review 247, Volume 45 Number 5, May - June 2019.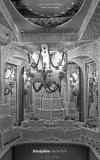 Like a Sausage
Jane Yeh, Discipline (Carcanet) £9.99
Jane Yeh's poems are at their best when estranged, deadpan comedy touches a sore spot: loneliness, failed romance, fear. In Discipline, her third and arguable best collection, this tension between droll comedy and private suffering is at its most disquieting. Reading Jane Yeh is like listening to an eccentric aunt tell absurd stories while she rings for the maid to clear away the breakfast things: we can hear the tinkle of the far-off bell in a freezing scullery or some filthy back kitchen, but the room we're sitting in is perfectly delightful. The effect is one of intense privacy despite all the charm.

In part, Yeh achieves this effect by seeming to describe ordinary things in an ordinary way, without embellishments or poetics. But this is subterfuge: what we actually get is peculiar things, oddly described. There is something twisted at work. The self-consciously flat style, the list-like end-stopped or almost end-stopped lines, the drollery, the eschewal of elaborate syntax are all of a piece with her bad-girl urbanity and lack of sentimentality. Ironic and askance, these poems cannot be serious, and yet one has a horrible feeling that they are. It is like watching Buster Keaton as another falling building narrowly misses him.

And the falling buildings in Discipline are indeed funny. In the wonderful 'Self Portrait as a Spinster', for instance, we hear that, 'To be unloved is like listening to a progress report on courgettes – for months'. This comes in one flat, can't-be-bothered-with-enjambment line. Later in the same poem ...
The page you have requested is restricted to subscribers only. Please enter your username and password and click on 'Continue'.
If you have forgotten your username and password, please enter the email address you used when you joined. Your login details will then be emailed to the address specified.
If you are not a subscriber and would like to enjoy the
266
issues containing over
10,800
poems, articles, reports, interviews and reviews, why not
subscribe
to the website today?