This review is taken from PN Review 241, Volume 44 Number 5, May - June 2018.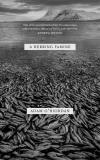 Fish, Flesh & Fowl
Adam O'Riordan, A Herring Famine (Chatto & Windus) £9.99;
Matthew Olzmann, Contradictions in the Design (Alice James Books) £12.50;
Miriam Nash, All the Prayers in the House (Bloodaxe) £9.99
Adam O'Riordan's A Herring Famine is a book which has squarely inherited a tone and poise from the Heaney­Mahon-Donaghy-Paterson axis, with the same easy and sometimes beguiling movement between the sensual and the sweeping ostentations of history and religion. He works in the medium of the gently expressive lyric, the tone understated but no-bullshit and wise.

The problem for O'Riordan, though, is that tone in itself isn't enough for actual wisdom; it's only enough for the impression of wisdom; it beguiles but it doesn't deliver. It seems very often in A Herring Famine that a studied poise – the ghost of good poetry twenty-years past – is allowed to take the place of any actual search for insight. When the narrator of one poem is in Berghain, the hypercool Berlin nightclub world-famous for its techno and dark rooms for public sex, he immediately thinks 'of Dante's circles of hell, / of the room a floor below where lust was explicated endlessly' and of 'the rituals of disappearance'. Remember that episode of Men Behaving Badly, with the insufferable posh student who keeps on talking about anthropological rituals when they go to the pub? That's Adam O'Riordan, at his worst.

When we find a character in a later poem 'raising his phone like a chasuble', we see again the attempt to generate significance by falling back on a lexicon of significance, without any searching-out of complexity. And somewhere else, talking about an image from a news story, we have 'There is something of the fall, of course'. Of course. ...
The page you have requested is restricted to subscribers only. Please enter your username and password and click on 'Continue'.
If you have forgotten your username and password, please enter the email address you used when you joined. Your login details will then be emailed to the address specified.
If you are not a subscriber and would like to enjoy the
267
issues containing over
10,800
poems, articles, reports, interviews and reviews, why not
subscribe
to the website today?