This review is taken from PN Review 241, Volume 44 Number 5, May - June 2018.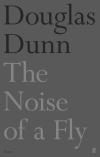 Our Accents Mix
Douglas Dunn, The Noise of a Fly (Faber) £10.99
It's been seventeen years since Douglas Dunn's last collection. The first poem here, 'Idleness', implies it might not have been so long, perhaps with intimations of chaos theory for what is to come:

Can you hear them? The flap of a butterfly.
The unfolding wing of a resting wren.
The sigh of an exhausted garden-ghost.
A poem trapped in an empty fountain pen.

There is a lot of what might have been in this book, and of what once was: 'the scent of one who is no longer here', or the fact that 'Something about ageing makes me witness youth / Surviving in me like a troublesome / Dilemma'. This is coupled with a clear imperative, which has perhaps always been Dunn's greatest strength, to 'face what happens without self-pity', as he writes in 'Fragility', and to try to say things as they are, or were. As he self-cautions in '
Wondrous Strange
', another tentative
ars poetica
, 'I must ask / My Muse to save me from contriving / A forger's touch of moonlight on the page'.
Dunn's tongue is often close to his cheek in even the book's most sombre poems of
memento mori
. In 'The Wash', in which he writes, 'I don't feel like Sisyphus, I feel like his boulder', the ageing poet asks: 'How long does a book, or sheet of paper, last? / If the answer is hundreds of years, does that console? / Go early to bed and outstare the clock'. Dunn retired about midway between his last collection ...
The page you have requested is restricted to subscribers only. Please enter your username and password and click on 'Continue'.
If you have forgotten your username and password, please enter the email address you used when you joined. Your login details will then be emailed to the address specified.
If you are not a subscriber and would like to enjoy the
267
issues containing over
10,800
poems, articles, reports, interviews and reviews, why not
subscribe
to the website today?