This review is taken from PN Review 241, Volume 44 Number 5, May - June 2018.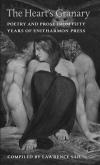 Heart's Granary
Lawrence Sail (ed.), The Heart's Granary: Poetry and Prose from Fifty Years of Enitharmon Press (Enitharmon) £30
When I think, admiringly, of Enitharmon Press, I recall one book, in particular, Phoebe Hesketh's Netting the Sun. The title is a fine definition of poetry. The front cover displays a bold drawing of black willow against a gold sun – well fitted to Hesketh's clear, tough poems. The back cover features a tribute by A. Alvarez to this 'absurdly underrated' poet. I now realise that, in 1989, when I bought this cherished book, Enitharmon Press was already twenty-two years old.

The Heart's Granary is colourfully punctuated by Enitharmon covers and illustrations, including a delectable trio by Hockney. Besides poetry, Enitharmon's publications include artists' books, limited editions and original prints. Lawrence Sail, the heroic harvester of this anthology, notes that Enitharmon 'has had only two directors: Alan Clodd, for the first twenty years […] Stephen Stuart-Smith for the next thirty'.

How did Sail select from fifty years of poetry and prose? He explains, disarmingly, that he chose 'what most appeals to me and seems to succeed best on its own ground'. He also aimed to show Enitharmon's range. Poetry and prose are kept separate, ordered by theme. All writers and artists are impeccably indexed.

Sail shows a light editorial touch. Through almost four hundred pages, readers are revived by living links between his selections. 'There will be blackbirds' promises U. A. Fanthorpe, published by Enitharmon, after Peterloo Poets closed. 'So have I heard bird-song, beneath the / trajectory zone, at Passchendaele,' writes David Jones. This birdsong comes from Wedding Poems, published in 1930, republished by Enitharmon in ...
The page you have requested is restricted to subscribers only. Please enter your username and password and click on 'Continue'.
If you have forgotten your username and password, please enter the email address you used when you joined. Your login details will then be emailed to the address specified.
If you are not a subscriber and would like to enjoy the
267
issues containing over
10,800
poems, articles, reports, interviews and reviews, why not
subscribe
to the website today?