This review is taken from PN Review 237, Volume 44 Number 1, September - October 2017.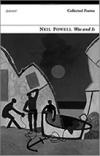 Vigilant
Neil Powell, Was and Is: Collected Poems (Carcanet), £14.99

In his title poem Neil Powell writes, 'I was the child who made a world in a shed; / Who talked to animals, birds and sunsets.' Solitude and loneliness are dominant themes in this collection, where nature, music and books often substitute for human encounters. Take the villanelle 'In a Cold Season': 'there are things half-heard / Across a world vacated by the word, / In this still dusk, this breathless interruption. / The resonant descant of a distant bird […]'. Yet in a volume that goes to great lengths to establish the poet's isolation, Powell reveals many surprising human connections – in numerous poems addressed or dedicated to friends, in the recurring manifestation of 'we' and 'you', and in his journey to establish both poetic and personal identity.

Disconnection, however, is an unmistakable motif – or perhaps more properly it is the Forster-like uncertainty of human connection. In 'Gathering', for instance, Powell recalls participating in a poetry reading with John Mole and Peter Scupham. The poem's form (tercets in terza rima) implies a connective triad of poets, yet in his self-directed 'you' Powell disengages from the expected we of the three poets. He then 'banish[es]' the reader along with the listeners in his audience, reducing them to 'shades of philistines', though he equally disdains his own poems, 'as often loved as cursed'. Almost miraculously, the poem's tension and isolation melt into a spirit of concord and beauty: 'thus we trace // The narrow line which hovers in this place, / Encounter not art's seedlings but its bloom / And gather, ...
The page you have requested is restricted to subscribers only. Please enter your username and password and click on 'Continue'.
If you have forgotten your username and password, please enter the email address you used when you joined. Your login details will then be emailed to the address specified.
If you are not a subscriber and would like to enjoy the
266
issues containing over
10,800
poems, articles, reports, interviews and reviews, why not
subscribe
to the website today?