This review is taken from PN Review 236, Volume 43 Number 6, July - August 2017.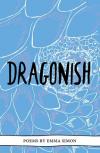 High
Adnan Al-Sayegh, trans. Jenny Lewis & Alaa Juma, illus. Kate Hazell, Ten Poems (Mulfran); Jos Smith, Sun (Guillemot); Emma Simon, Dragonish (Emma Press); Yvonne Reddick, Translating Mountains (Seren); Rhian Edwards, Brood (Seren); John Killick, Inexplicable Occasions (Fisherrow)

'Short poets / often put high heels / on their poems.' Though pocket-sized, Ten Poems deserves the highest praise. Al-Sayegh's tiny works can be witty and tender: 'The sea came when I was out. / It left me its address in the blue of your eyes.' They also aim precise blows at vanity and greed: 'Lounging / at the foot of the mountain / he asks / "Is there a vacancy at the top?"' I would not have guessed that these confidently paced lines were translations. The ten poems are also presented in Arabic. Their English cousins lie alongside the fluid, occasionally erotic lines of Kate Hazell's drawings. It is sometimes hard to fit poems into our lives. This perfect present might entice its readers to larger books by Adnan Al-Sayegh and Jenny Lewis.

¶ Jos Smith's pamphlet has an epigraph from Richard Jefferies: 'he felt the constellations and the sun on a plane with him'. The poems of Sun have an illuminated strangeness, sometimes gentle: 'what on earth are we doing / in the centre of a primrose this morning?' His lines' densest patterns mirror what is natural, especially the rough effort of growth: 'so breathes the sun to struggle, / struggles to breathe'.

Smith's writing is both cryptic and passionate. In the final verse of 'Glare', a song-like lilt gives way to fiercely focused rhyme:


I look at what remains of you,
teeth in a tin and a lock of hair;
the unnerving hush that grew
from your blonde glare.


...
The page you have requested is restricted to subscribers only. Please enter your username and password and click on 'Continue'.
If you have forgotten your username and password, please enter the email address you used when you joined. Your login details will then be emailed to the address specified.
If you are not a subscriber and would like to enjoy the
271
issues containing over
11,000
poems, articles, reports, interviews and reviews, why not
subscribe
to the website today?