This review is taken from PN Review 236, Volume 43 Number 6, July - August 2017.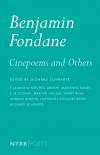 C'est à vous que je parle…
Benjamin Fondane, Cinepoems and Others, trans. M. Abidor et al (NYRB) £8.99

Some 67,400 Jews were interned at Drancy. One, a Romanian-born poet whose contacts could have reprieved him, balked at solitary safety and accompanied his sister to Auschwitz-Birkenau. Born in Moldavia (1898), like Tzara and Cioran, Beniamin Wechsler moved to Paris and, like Claude Sernet or Ilarie Voronca, assumed its language, becoming Benjamin Fondane. Such a life! Behind him a publication history in Romanian and the influence of Yiddish, Mihai Eminescu and Tudor Arghezi. A peripheral figure in the group-photographs of Surrealism, like Crevel. A philosopher and critic of rationalism, an Existentialist hostile to Husserl, a devotee of Shestov, author of celebrated essays on Rimbaud and Baudelaire, he made a film in Argentina at the invitation of Victoria Ocampo and worked with the director Kirsanoff on Le Rapt (1934).

At his request, the French collected is entitled Le mal des fantômes; the phantoms are those disconnected from their lives by modernity and the death of God. Fondane's major Francophone works attempt to remedy Existential inauthenticity through a poetic idiom increasingly virulent as the notion of God's death comes to coincide with Fondane's recognition that he and the Jews are chosen for extinction. Miłosz wrote 'We were many, from Jassy and Koloshvar, Wilno and Bucharest / Ashamed to remember the customs of our homes.' Jassy is Fondane's native Iaşi and pogroms part of his former habitat; there was safety, surely, in the ville des lumières. His voice, always Jewish, becomes essentially Jewish in L'Exode: Super flumina Babylonis (1934), a 'dramatic poem for several voices' evoking the Jewish exile in Nazi ...
The page you have requested is restricted to subscribers only. Please enter your username and password and click on 'Continue'.
If you have forgotten your username and password, please enter the email address you used when you joined. Your login details will then be emailed to the address specified.
If you are not a subscriber and would like to enjoy the
271
issues containing over
11,000
poems, articles, reports, interviews and reviews, why not
subscribe
to the website today?