This review is taken from PN Review 236, Volume 43 Number 6, July - August 2017.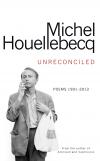 Flat Lemonades
Michel Houellebecq, Unreconciled: Poems 1991–2013, translated by Gavin Bowd (Heinemann, 2017) £16.99

I knew a bit about Houellebecq without having read any of his novels because he's sometimes in the news being criticised/defended for the things he's written in them. A little over a year ago, Submission – which imagines a Muslim party defeating Le Pen's Front National in the 2022 election – was published on the same day as the Charlie Hebdo shooting in Paris. I hadn't known that Houellebecq's caricature (a prophesying wizard) had been on the cover of the magazine at the time, or that his friend, the economist Bernard Maris, had been killed in the attack, but the whole thing – including allegations towards Houellebecq's Islamophobia and deliberately provocative, possibly even irresponsible writing – was consistent with my understanding of his role as France's foremost literary antagonist.

The poems in Unreconciled, a new dual-language edition with translations by Gavin Bowd, present, for the most part, the same pessimistic, existential Houellebecq that I'd come to expect. 'We are in the eternal position of the vanquished,' offers one poem, 'The multiple meanings of life / We imagine to calm down / Stir a little, then it's over', closes another. He passes through the city with the near-obliviousness of a window shopper, eavesdropping on conversations he has no interest in, doing his best to avoid participating in the 'Shrivelled and slender joys' of modern living he's come so comprehensively to detest: 'Ah! This obsession with kitchens!'

O'Hara's 'I do this, I do that' poems come to mind, though Houellebecq rarely encounters the same cause for celebration. More ...
The page you have requested is restricted to subscribers only. Please enter your username and password and click on 'Continue'.
If you have forgotten your username and password, please enter the email address you used when you joined. Your login details will then be emailed to the address specified.
If you are not a subscriber and would like to enjoy the
271
issues containing over
11,000
poems, articles, reports, interviews and reviews, why not
subscribe
to the website today?