This review is taken from PN Review 236, Volume 43 Number 6, July - August 2017.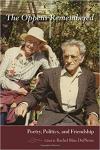 Discretions
The Oppens Remembered, edited by Rachel Blau DuPlessis (University of New Mexico Press, 2015)

The Oppens Remembered contains essays, memoirs, interviews and poems alongside pieces that defy genre description but add significantly to our understanding of the contexts in which the Oppens were living and working. It provides new material through which to read the poems of George Oppen, telling us much about the times places and societies within which those poems were produced, and also narrates a life which was, in George Oppen's words, numerous, rather than singular.

George Oppen's working life spanned the mid-twentieth century. Part of a group that came to be called the Objectivists and included Ezra Pound, William Carlos Williams, Lorrine Niedecker, Charles Reznikoff, Louis Zukofsky, Carl Rakosi, and Basil Bunting, he began writing in the 1920s and '30s as well as running a small press with his wife, Mary. A political activist but unwilling to write explicitly political poetry, he gave up writing for a period of some twenty-five years from the mid-1930s to the late 1950s, during which time he was a labour organiser, served in Europe in the Second World War and returned severely wounded, was a house builder and then spent most of the 1950s in Mexico to escape McCarthyism. He returned to the USA and writing in 1957, living in New York and then California, and went on to write a number of important poetry collections and win the Pulitzer prize before his death from complications caused by Alzheimer's in 1984.1 This life was characterised by ethical and moral imperatives, giving him and his work the deserved reputation of ...
The page you have requested is restricted to subscribers only. Please enter your username and password and click on 'Continue'.
If you have forgotten your username and password, please enter the email address you used when you joined. Your login details will then be emailed to the address specified.
If you are not a subscriber and would like to enjoy the
271
issues containing over
11,000
poems, articles, reports, interviews and reviews, why not
subscribe
to the website today?