This review is taken from PN Review 235, Volume 43 Number 5, May - June 2017.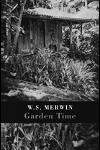 Feeling Our Way
W.S. Merwin, Ripeness
Bloodaxe, 2016
£9.95

What was thrilling about so many poems in The Moon Before Morning was the way they combined a sense of stilled contemplation with the vibrancy of surprise as they unfolded. The stillness seemed to be in the poet's mind and eye, vibrancy and surprise in what the world showed him. The imaginative texture of Garden Time is thinner, but it's a fine book by one of our finest poets.

Because the poems are unpunctuated, we feel our way to a sense of the whole phrase by phrase. The syntactical relations that emerge can be shifting, fluid and multilayered, so that reading is like watching the flow of a river or floating down one in a kayak. Individual lines and phrases catch our attention by beauty of sound, vivid images, and the way they radiate symbolic suggestions without the poet's calling attention to them: 'July with sun-filled leaves drifting among the butterflies'; 'the rill of waters slips past my fingers'; 'hearing a seed fall somewhere in the dark'. The fact that so many are drawn from nature reflects both the poet's love of living things and his Buddhism-inspired acceptance of the processes of life as they are.

Admittedly there's less of that sharp particularity in Garden Time than in The Moon Before Morning. In weaker poems Merwin can seem to be elegantly rephrasing feelings and positions that he himself has made familiar. Such poems lack the thrilling sense of fresh impact that the best have. However, in poem after poem the way the phrases ...
The page you have requested is restricted to subscribers only. Please enter your username and password and click on 'Continue'.
If you have forgotten your username and password, please enter the email address you used when you joined. Your login details will then be emailed to the address specified.
If you are not a subscriber and would like to enjoy the
271
issues containing over
11,000
poems, articles, reports, interviews and reviews, why not
subscribe
to the website today?