This review is taken from PN Review 235, Volume 43 Number 5, May - June 2017.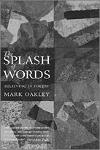 Unafraid of Mystery
Mark Oakley, The Splash of Words: Believing in Poetry
(Canterbury Press, 2016) £12.99

During his final imprisonment, Dietrich Bonhoeffer wrote of his desire for a new language of faith. He claimed it would be 'perhaps quite non-religious. But liberating and redeeming as was Jesus's language. It'll shock people. It'll shock them by its power. It'll be the language of a new truth […] '

Bonhoeffer's words offer one kind of justification for Mark Oakley's project in The Splash of Words. For Oakley – Canon Chancellor of St Paul's and, thereby, de facto chief theologian of London's mother church – wants 'to believe' in poetry; the central line of enquiry takes seriously Michael Longley's words, 'If I knew where poems came from, I'd go there.' Oakley's meditations on thirty more-or-less well-known poems walk a path shadowed by that old nineteenth-century fantasy that 'Poetry' might take the weight of the receding 'Sea of Faith'.

Therein, perhaps, lies the book's key problem and key interest. In one sense, The Splash of Words lives and dies (and, cheap joke, lives again) by its sincerity. Sincerity may be a virtue for the religious, but it's rarely a boon for the critic. Thus, Oakley's assessment of Elizabeth Bishop's 'North Haven' or Louis MacNeice's 'Prayer Before Birth', is a high-wire test of faith. Certainly, Oakley is urbane and a gently gifted critic. Of Bishop's final offering to Lowell in 'North Haven' ('Sad friend, you cannot change') Oakley says, '[Lowell] slips from view and she puts him at rest […] or is she the sad friend who cannot change her dislocating bereavement?' Oakley 'gets' the tensions ...
The page you have requested is restricted to subscribers only. Please enter your username and password and click on 'Continue'.
If you have forgotten your username and password, please enter the email address you used when you joined. Your login details will then be emailed to the address specified.
If you are not a subscriber and would like to enjoy the
272
issues containing over
11,000
poems, articles, reports, interviews and reviews, why not
subscribe
to the website today?