This review is taken from PN Review 235, Volume 43 Number 5, May - June 2017.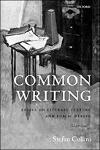 Over even-handed
Stefan Collini, Common Writing: Essays on Literary Culture and Public Debate (OUP, 2016) £27

Stefan Collini is a historian of Victorian and modern British thought: good-humoured, stylish and witty, but always with a seriousness of purpose. Common Writing is his latest selection, a page-turning education in thirteen review-essays, half on literary culture, half on public debate: 'Mostly, they are about authors who, while making a mark in a particular literary genre or intellectual discipline, have also figured, however indirectly, in wider public discussion, or else about some of the media that have enabled such contributions.' The focus of these essays is on new biographies or new editions of the writers' work, and on what he has described elsewhere as 'the lineaments of sedimented identity'.

The book is again built largely of essays from the LRB and the TLS and is a companion to Common Reading (2008), the title intended to signal an activity 'that is both shared and everyday'. Behind it we might hear Doctor Johnson rejoicing, in his Lives of the English Poets, on 'the common sense of readers uncorrupted with literary prejudices'.

Common Writing has a starry – if predominantly deceased – cast of poets, literary and cultural critics, professors, journalists and historians: public intellectuals. Some are not as celebrated today, it must be said. For instance, Collini discusses those in the 'English tradition of ethically driven progressive social commentary', like the Hammonds, Tawney, Hoggart and Titmuss. He also considers historians such as Eileen Power (impact overstated) and Herbert Butterfield (biographically enhanced) in contrast to Hugh Trevor-Roper (greatly gifted, insensitive, and lacking the magnum ...
The page you have requested is restricted to subscribers only. Please enter your username and password and click on 'Continue'.
If you have forgotten your username and password, please enter the email address you used when you joined. Your login details will then be emailed to the address specified.
If you are not a subscriber and would like to enjoy the
271
issues containing over
11,000
poems, articles, reports, interviews and reviews, why not
subscribe
to the website today?