This review is taken from PN Review 234, Volume 43 Number 4, March - April 2017.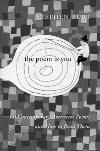 More of the World
Stephen Burt
The Poem is You: 60 Contemporary Poems and How to Read Them
(Belknap Press, 2016) $27.95
STEPH BURT plays a particular role in the network of contemporary poetry: in addition to writing poems and more traditional scholarly work as Professor of Poetry at Harvard University (especially on Randall Jarrell), Burt is one of the most prominent popularisers of others' work. The Poem is You follows 2009's Close Calls with Nonsense, making the format of an anthology of poems with a critical essay something of a personal hallmark. The mission is evangelical and educative: yes, contemporary poetry can be daunting, both in its forms and range of cultural references, but it is navigable with a conscientious guide. The presentation of The Poem Is You is even more inviting than Close Calls: the second-person pronoun in the title (taken from the John Ashbery poem with which the selection begins) suggests intimacy, perhaps promising to give as much attention to the reader as the texts; and the subtitle, 60 Contemporary Poems and How to Read Them, is less austere, more encouraging that that of Close Calls with Nonsense: Reading New Poetry.

It's sometimes a cheap shot to discuss the introduction to an anthology at length, but the essay that introduces The Poem Is You is intrinsically interesting. Burt points out that:


the best introductions to poetry in general spend much of their time, quite rightly, on poets such as Shakespeare and Emily Dickinson […] rather than focusing only on recent decades.

That's where this book comes in. And yet any approach to recent American poetry as a whole—even this one—raises ...
The page you have requested is restricted to subscribers only. Please enter your username and password and click on 'Continue'.
If you have forgotten your username and password, please enter the email address you used when you joined. Your login details will then be emailed to the address specified.
If you are not a subscriber and would like to enjoy the
266
issues containing over
10,800
poems, articles, reports, interviews and reviews, why not
subscribe
to the website today?