This review is taken from PN Review 234, Volume 43 Number 4, March - April 2017.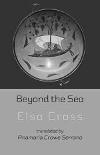 Sexting Dionysus
Elsa Cross (trans. Anamaria Crowe Serrano), Beyond the Sea (£10.95);
Sandeep Parmar, Eidolon (£8.95);
Linda Black, Slant(£9.95);
Em Strang, Bird-Woman (£9.95)
Susan Connolly, Bridge of the Ford (£10.95) (all Shearsman)
SHEARSMAN'S WOMEN POETS tend to be in a modernist line, but the eclecticism and range of this international list makes for a sense of many voices and cultural locations rather than a unified academic feminism. Elsa Cross is a Mexican poet, once strongly praised by Octavio Paz, who writes sequences which have a diaphanous sheen, and a sort of limpidity: they are 'poetic', 'feminine', sonorous in Spanish and light and precise in a fine translation. The adjoining islands of Beyond the Sea are governed respectively by Apollo and Dionysus, the poems of each section composed in traditional dithyrambs and odes. The ode is her mode: Homeric voyagings, meetings at which lovers combust into white incandescence, as their eternal essences airily permute and conjoin. Her manner is vatic, oracular, and her breadth of imagination considerable. The first sequence, of three odes, begins with 'Stones', the birth of cities and the ruins of cities built on utterance, on prophecies:


The sun lashes, naked, on marble.
Inscriptions
wide and light its messages:
letters like porticos,
triglyphs,
vibrant propyleums –
and just where names and things collide
veins open in the marble
like entries to other dreams.
('Stones')


Her schema unfolds into 'Waves', a lazily sensual poem with the blue Aegean gently slapping at its rump, far richer in description and human life, and finally 'Cicadas' in which the intoxications of landscape and love and myth are fused and the winged god finally appears:


Unfolding ...
The page you have requested is restricted to subscribers only. Please enter your username and password and click on 'Continue'.
If you have forgotten your username and password, please enter the email address you used when you joined. Your login details will then be emailed to the address specified.
If you are not a subscriber and would like to enjoy the
271
issues containing over
11,000
poems, articles, reports, interviews and reviews, why not
subscribe
to the website today?