This review is taken from PN Review 234, Volume 43 Number 4, March - April 2017.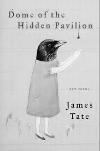 Hilarious & Sad
James Tate, Dome of the Hidden Pavilion
(Harper Collins, 2016) £13.50;
Em Strang, Bird-Woman (Shearsman, 2016) £8.95
Dome of the Hidden Pavilion was James Tate's seventeenth and last book of poetry. It was published shortly after his death in 2015. Tate had a long and distinguished career, although his work is not that well-known in the UK. His first collection, The Lost Pilot (1967), was selected by Dudley Fitts for the Yale Series of Younger Poets. His Selected Poems (published in the uk by Carcanet) won the Pulitzer Prize and the William Carlos Williams Award in 1991. Influenced by Wallace Stevens, many of Tate's earlier poems use unrhymed tercets and adopt a reflective, meditative tone. They are haunted by a sense of loss, as shown in one of his more familiar poems, 'The Lost Pilot', written for his father who was killed in action in 1944:


I feel dead. I feel as if I were
the residue of a stranger's life,
that I should pursue you.

My head cocked toward the sky,
I cannot get off the ground,
and, you, passing over again,

fast, perfect, and unwilling
to tell me that you are doing
well, or that it was mistake

that placed you in that world,
and me in this; or that misfortune
placed these worlds in us.


From his second collection, The Oblivion Ha-Ha (1970), until the late 1980s, Tate's poems moved to a highly original use of surrealism and absurdism, with, in the words of Anthony Caleshu, a close attention to 'language games, syntactical variations, and ...
The page you have requested is restricted to subscribers only. Please enter your username and password and click on 'Continue'.
If you have forgotten your username and password, please enter the email address you used when you joined. Your login details will then be emailed to the address specified.
If you are not a subscriber and would like to enjoy the
272
issues containing over
11,000
poems, articles, reports, interviews and reviews, why not
subscribe
to the website today?