This review is taken from PN Review 234, Volume 43 Number 4, March - April 2017.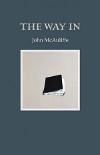 The Way
John McAuliffe, The Way In
(The Gallery Press, 2015) £9.00
THE TITLE POEM of John McAuliffe's most recent collection, The Way In, closes with the line, 'The door, the boat, the way out the only way in'. Doors and boats figure prominently in this volume, which is surely fitting for someone whose professional career as a writer has meant regular shuttling between Ireland and mainland Britain. It makes for an itinerant existence, at once exciting and, in both senses, unsettling. The train journey to and from Holyhead is one of the threads that gives continuity in these poems, 'the train that […]/runs between like a thought, //a thought with rain streaking it / and fields like a faithful companion.' Yet there is also a sense of tensions set up: good tensions where absence makes the heart grow fonder, 'the gulls flying up out of the thought / that I go away to hear you say my name'. But other tensions crowd in too: in 'Echo', the poet returns from a stay in Lisbon to find he has lost his key, his home altered, indifferent to him, running its life independently, making him feel somehow superfluous to requirements, 'getting a laugh from knocking on my own door, /but not so much when/ […] it sounds, on the other side, / […] as if I've been, these many days, an echo//right here really, of a life that has gone on, regardless'.

McAuliffe's own clear point of departure and return remains, nevertheless, his native Ireland. He explores this in the central sequence, 'Home Again'. The book's cover tells us that McAuliffe has borrowed ...
The page you have requested is restricted to subscribers only. Please enter your username and password and click on 'Continue'.
If you have forgotten your username and password, please enter the email address you used when you joined. Your login details will then be emailed to the address specified.
If you are not a subscriber and would like to enjoy the
271
issues containing over
11,000
poems, articles, reports, interviews and reviews, why not
subscribe
to the website today?