This review is taken from PN Review 234, Volume 43 Number 4, March - April 2017.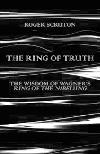 An Essential Addition
Roger Scruton
The Ring of Truth: The Wisdom of Wagner's 'Ring of the Nibelung'
(Allen Lane, 2016) £25.00
WAGNER IS PRESENT in The Waste Land in the form of two pregnant snippets from Tristan and Isolde and in the glossolalia, intermediate between speech and music, of the Rhinemaidens. It is hard, nonetheless, to imagine him as a poet in his own right – the texts that make up The Ring of the Nibelung are now inseparable from the music that was to accompany them. Yet it was as a dramatic poem, privately printed, that they were first presented to the world – when not a note of the music had yet been written. Remarkably, in the four years that he worked on them, so engrossed was he in the drama that evolved before his eyes that he virtually ceased to compose music.

There was no mystery about why Wagner turned to the sort of literary materials that he did. A mythology was needed for his great design, and researching the remains of the old pagan culture was an essential part of what it was to belong to the nationalistic Young Germany movement. But compiling the text of The Ring involved no straightforward taking-over of a ready-made mythology. Certainly he took a little from the Nibelungenlied, and rather more from the Icelandic Volsung Saga, but he drew as much from the Eddas, developing hints in the obscurest corners of the literature that he was able to interpret for his own purposes. It was as if he already knew – in an inchoate fashion – what he wanted to say, and was able to re-invent ...
The page you have requested is restricted to subscribers only. Please enter your username and password and click on 'Continue'.
If you have forgotten your username and password, please enter the email address you used when you joined. Your login details will then be emailed to the address specified.
If you are not a subscriber and would like to enjoy the
268
issues containing over
10,900
poems, articles, reports, interviews and reviews, why not
subscribe
to the website today?