This review is taken from PN Review 234, Volume 43 Number 4, March - April 2017.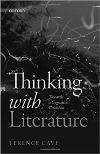 Fireflies & Field
Terence Cave
Thinking with Literature:
Towards a Cognitive Criticism
(Oxford University Press, 2016) £25
TERENCE CAVE AFFIRMS that 'literature itself provides the primary energies' of his latest book, but he draws on the volatile fuel of cognitive science to try to boost our understanding of what literature is and how it works – and to deepen our appreciation of literary texts. Literature, he contends, 'offers a virtually limitless archive of the ways in which human beings think, how they imagine themselves and their world' and this is, so to speak, a vast mobile library, whose documents 'thrive on mutation'. In 'the broad sense', literature is 'the most revealing product and symptom of human cognition, an outgrowth of one of the most fundamental of human cognitive instruments': language.

These are large but heartening claims after the dismal decades of the later twentieth century when literature, even or especially among some of those paid to teach it, was dismissed as an ideological illusion, while, paradoxically, the simultaneous burgeoning of creative writing courses suggested that there were a growing number of people eager to produce (something like) literature (even if their reading of it was sometimes sketchy). In affirming the value of literature, however, Cave also upholds a key tenet of cognitive criticism: that the processes by which we understand literature are continuous with the everyday processes by which we understand language and living.

Cave is well aware that linking the justification and interpretation of literature with cognitive science runs several risks – of misunderstanding and misappropriating scientific terms and concepts; of taking as gospel disputed or discarded scientific ...
The page you have requested is restricted to subscribers only. Please enter your username and password and click on 'Continue'.
If you have forgotten your username and password, please enter the email address you used when you joined. Your login details will then be emailed to the address specified.
If you are not a subscriber and would like to enjoy the
271
issues containing over
11,000
poems, articles, reports, interviews and reviews, why not
subscribe
to the website today?