This review is taken from PN Review 233, Volume 43 Number 3, January - February 2017.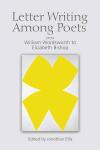 An Intercourse with Ghosts
Jonathan Ellis (ed), Letter Writing Among Poets: From William Wordsworth to Elizabeth Bishop Edinburgh University Press, 2016 Reviewed by Ruth Hawthorn
THE DEMISE OF LETTER WRITING has been pronounced prematurely on numerous occasions over the last two centuries; the penny post, telegrams and telephones were all wrongly accused of sounding its death knell. More recently the internet and the ephemeral communication it facilitates has been decried as the final proverbial nail. As one commentator mourns, 'Inky manuscripts contain insights that can be lost forever to the backspace key.' While letters may not yet be completely extinct, as Jonathan Ellis observes, 'However one dates the "great age of letter-writing" there seems little doubt that it is in the past.' Ending, appropriately, with Ellis's own haunting essay about the last letters of John Keats, Elizabeth Bishop and Ted Hughes, Letter Writing Among Poets reads as an elegy for the form. What emerges in many of the essays collected here is a sense of letters' uncanniness, and Kafka's view of letters as 'an intercourse with ghosts' permeates the collection. The absent presence of the letter-writing voice (analogous with the lyric voice) and letters' ability to vividly recall the voice of the dead is commonly remarked upon, but, Ellis observes, this also works the other way: the addressee 'is ghostly too'. The necessary lag between writing and reading means that, as Angela Leighton suggests, 'there is a potential dead letter at the heart of every missive'.

There is some speculation on new media and how the role of letters is being supplanted or transformed in the age of near-instantaneous correspondence. Hermione Lee comments, for example, that 'No-one ...
The page you have requested is restricted to subscribers only. Please enter your username and password and click on 'Continue'.
If you have forgotten your username and password, please enter the email address you used when you joined. Your login details will then be emailed to the address specified.
If you are not a subscriber and would like to enjoy the
272
issues containing over
11,000
poems, articles, reports, interviews and reviews, why not
subscribe
to the website today?