This review is taken from PN Review 232, Volume 43 Number 2, November - December 2016.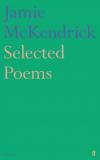 Balancing Acts Jamie McKendrick, Selected Poems
Faber, 2016




Michael Symmons Roberts
Selected Poems
Cape, 2016



Derek Mahon, New Selected Poems
Faber / Gallery Press, 2016
'Omissions are not accidents', declared Marianne Moore in her Complete Poems as a wry disclaimer to her revisionist approach. What, then, of that more explicitly discriminating model – a poet's Selected? Should the Selected gather the unwieldy corpus of a life's work into a mapped trajectory, a neat phase-by-phase articulation of 'growth', 'progress', and other critical red herrings of linearity? Or, in resistance to the familiar narrative, is the Selected a chance to re-configure and, borrowing Moore's scalpel, fashion anew the poet's body of writing? For many readers it is the introduction, the teasing gateway buffet from which to catapult a further and more intensive grazing. They are books that then shift uniquely in our estimation as, while tied to the nostalgia of discovery, over time they can come to feel heartlessly slim and deficient. If the book is successful, the reader will seek out further work and hence later return to find the Selected as a diminished token of what it revealed. The following Selected volumes attest to the precarious difficulties and possible reward entailed by such editorial balancing acts.

Jamie McKendrick's Selected Poems draws from six collections, from his 1991 debut The Sirocco Room up to his latest collection, 2012's Out There. He is the editor of The Faber Book of 20th-Century Italian Poems (2004) and has translated numerous other poets (Giorgio Bassani, Valerio Magrelli, David Huerta, Pier Paolo Pasolini), receiving an Oxford-Weidenfield prize in 2010 for his translation of Magrelli's The Embrace. There is a control that governs his poetry with its own gratifying ...
The page you have requested is restricted to subscribers only. Please enter your username and password and click on 'Continue'.
If you have forgotten your username and password, please enter the email address you used when you joined. Your login details will then be emailed to the address specified.
If you are not a subscriber and would like to enjoy the
271
issues containing over
11,000
poems, articles, reports, interviews and reviews, why not
subscribe
to the website today?