This review is taken from PN Review 232, Volume 43 Number 2, November - December 2016.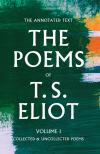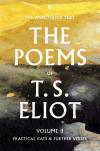 A Handful of Eliot
The Poems of T.S. Eliot – Volume I: Collected and Uncollected Poems
ed. Christopher Ricks & Jim McCue (London: Faber, 2015) 1311 pages, £40






The Poems of T.S. Eliot – Volume II: Practical Cats and Further Verses
(ibid) 667 pages, £40
T.S. Eliot would probably hate the new edition of his complete poems. Under the editorship of Christopher Ricks and Jim McCue, these two volumes have attracted most publicity for their inclusion of erotic verses to Eliot's second wife, Valerie, inscribed within two exercise books labelled 'Valerie Her Book', alongside other handwritten copies of published and unpublished poems. These aren't the only private communications in the new edition, which gathers manuscript drafts of Eliot's poetry and the coterie poems circulated as Noctes Binanianae and gleans a variety of verses, couplets, and limericks from correspondence with friends and acquaintances. Such new material may excite fans of his work, but Eliot guarded the shape of his oeuvre fiercely and berated the editors of the Harvard Advocate in 1949 for reprinting his undergraduate poetry without authorisation. He also valued his privacy highly, writing to his brother in 1930, 'I should like to leave as little biography as possible'.

This is not, however, a prurient or prying publication and other aspects of these volumes would have appealed to Eliot, who had a keen eye for scholarly editions. The incorporation of intimate materials and verse from private correspondence reflects a general principle of inclusivity. As a compendium of Eliot's poetic output the edition is already a significant achievement, but the comprehensiveness of the textual scholarship underpinning these two volumes is complemented by the similarly impressive scholarship within the extensive notes accompanying each volume. The chosen form of this scholarship is, however, unusual. Most editors limit themselves to brief factual summary, but ...
The page you have requested is restricted to subscribers only. Please enter your username and password and click on 'Continue'.
If you have forgotten your username and password, please enter the email address you used when you joined. Your login details will then be emailed to the address specified.
If you are not a subscriber and would like to enjoy the
271
issues containing over
11,000
poems, articles, reports, interviews and reviews, why not
subscribe
to the website today?