This review is taken from PN Review 231, Volume 43 Number 1, September - October 2016.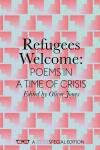 In the Salt Dark
Jack Robinson, by the same author, CB Editions; Eve Grubin, The House of Our First Loving, Rack Press; Refugees Welcome: Poems in a Time of Crisis, ed. Oliver Jones, Eyewear; Nicholas Murray, The Migrant Ship, Melos Press (all £5)
A VERY SMALL corner of our world's huge darkness holds a Chinese box, filled with the nightmares of dim-witted reviewers. Mine include the fear that the obscure writer, to whom a bright poet refers, might be the undetected invention of that poet (complete with convincing Wikipedia entry). So I began by the same author with gratitude to Charles Boyle, poet and publisher, who reveals that he is this pamphlet's author, 'Jack Robinson'.

'Someone was running, hard, behind me.' From Jack, Charles, or dark Anon, a story hooks us. We are into the Chinese box. Boyle's box contains short prose pieces, quick and allusive, which explore the narrator's friendship with a waiter, Eric. They share an obsession with a novelist, T. S. Nyman, and a book, XXX. At times, Eric or Nyman becomes more like a mysterious lover, or wife: 'Many arranged marriages do work.'

Humour lightens Boyle's snatches of prose. Even the longest seem too short. The reader glimpses other boxes, which snap shut: 'And even if it was plagiarism […] well, worse things happen on Mondays.' Poets take well to epigrams, often more truthful than moral: 'Cheating is under-rated.'

One of the most substantial elements of the pamphlet is professional knowledge: 'Her publishers must have been fingering their worry beads.' A knowing wit counter-balances wild speculation: 'that behind XXX there's a YYY […] and I start feeling dizzy'. I will not betray Jack (or Charles) by revealing the ending. Like the whole pamphlet, it is excellent, lightly done, and leads, of course, into an entirely different ...
The page you have requested is restricted to subscribers only. Please enter your username and password and click on 'Continue'.
If you have forgotten your username and password, please enter the email address you used when you joined. Your login details will then be emailed to the address specified.
If you are not a subscriber and would like to enjoy the
271
issues containing over
11,000
poems, articles, reports, interviews and reviews, why not
subscribe
to the website today?