This review is taken from PN Review 231, Volume 43 Number 1, September - October 2016.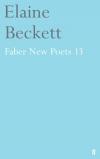 'You can't push matter out'
Sam Buchan-Watts, Faber New Poets 15
Crispin Best, Faber New Poets 14
Elaine Beckett,
Faber New Poets 13
Rachel Curzon, Faber New Poets 16
All Faber, £5
I LOVE RADIOS. But I nearly hurled a hefty anthology at mine when I heard a critic speak casually of 'the noise made by a poem'. Poems, I raged (silently!), have sounds, voices, meanings. 'Please, somebody stop this noise.'

I borrowed this plea from Sam Buchan-Watts. In his 'Matters Concerning God'


Now the only matter I can picture
is opaque: the soft pink bellow of sun in your ears.


Is 'bellow' a noise or a tool? Buchan-Watts is often cryptic. His meanings spread slowly, like the sun. He is an acute observer of blurred urban light: 'moth-like' cars, 'sodium fuzz'. But his poems' horizons can open into unexpected lyricism, with highly competent metrics, and long vowels of song:


what stillness happens when the movie shows
what type of wind blows

I could save a confession till the credits roll
never quite manage to sit them out till close


In a prose poem reflecting on moon landings, Buchan-Watts unobtrusively steers to a telling point: 'the futility of flags and their fluttering'. His prose poems are especially forceful: 'The mole pays back for the molehill: you can't push matter out or to the side of a dream in a manner so slipshod […] the fields are bereft of things'. In his poems' fields, the lives of animals matter. With child-like plainness, the mention of milk leads to 'small cows who are calves and are known to drink it as well'. Restraint ripens to drama. A boy 'bangs until ...
The page you have requested is restricted to subscribers only. Please enter your username and password and click on 'Continue'.
If you have forgotten your username and password, please enter the email address you used when you joined. Your login details will then be emailed to the address specified.
If you are not a subscriber and would like to enjoy the
271
issues containing over
11,000
poems, articles, reports, interviews and reviews, why not
subscribe
to the website today?