This review is taken from PN Review 231, Volume 43 Number 1, September - October 2016.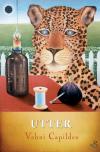 Coast to Coast
Vahni Capildeo, Utter (Peepal Tree) £8.99; Malika Booker, Pepper Seed (Peepal Tree) £8.99; Tiffany Atkinson, So Many Moving Parts (Bloodaxe) £9.95; Hilary Menos, Red Devon (Seren) £8.99; Zoe Skoulding, The Museum of Disappearing Sounds
(Seren) £8.99
VAHNI CAPILDEO'S UTTER, a collection inspired by the poet's time as a lexicographer at the Oxford English Dictionary, is, as its title suggests, concerned with sound and its transmission into language. It also represents the potential of language to convey that other sense of 'utter', an experience or understanding which is complete or absolute. The work examines this shift between possibilities and perspectives.

In the opening poem, 'Utter', the poet makes connections that are difficult, contrary and beautiful: 'the sky fires up as if to say what tongue swells against the teeth as if to say what the coastline cuts up thick and fortified giving the time of day, stranger, willing this dawn rain down and utter you'. Here and elsewhere the play of words against each other is deft, clever, relentless – straining against sense but never unleashed.

The image of the sea recurs, a site where words and phrases crash against each other. Different forces of thought, influence, inflection and cultural reference are pressed together and pulled apart – 'un-sea un-shore waving back each tender'. The dissonance of sound these collisions generate creates a space of rupture and shift. 'Unspontaneous as disbelief the island combusting – every sunset, despite the mist, such mist, so very missed, chances ourselves plunged in sunset forever lying off the coast.' Capildeo's writing explores the dizzying effect of multiple meanings. In so doing the syntax is stretched to the limit of its capacity to cohere and make sense. This offers a rich seam of interpretation ...
The page you have requested is restricted to subscribers only. Please enter your username and password and click on 'Continue'.
If you have forgotten your username and password, please enter the email address you used when you joined. Your login details will then be emailed to the address specified.
If you are not a subscriber and would like to enjoy the
271
issues containing over
11,000
poems, articles, reports, interviews and reviews, why not
subscribe
to the website today?