This review is taken from PN Review 231, Volume 43 Number 1, September - October 2016.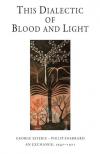 In the Greek Light
This Dialectic of Blood and Light: George Seferis – Philip Sherrard An Exchange: 1947–1971
Edited by Denise Harvey
Denise Harvey (Publisher), €22
The name Philip Sherrard will probably be familiar to readers of PN Review as the translator, together with Edmund Keeley, of some of the greatest Greek poets of the last century: Cavafy, Sikelianos, Seferis, Elytis, Gatsos. Perhaps he will be familiar to some as one of the founders, together with Kathleen Raine, of the Temenos Academy, with its journal, Temenos (later, after Sherrard's untimely death, relaunched as Temenos Academy Review). He may even be familiar as an Orthodox lay theologian, the author of several works of theology: some concerned to expose the errors of Western (mostly Catholic) Christianity, others about the way in which such Western errors have led to the ecological crisis that threatens to destroy us, but all expressed with passion and outrage.

Even that list does not exhaust Philip Sherrard's concerns: he wrote on Greek literature and culture, and was one of the main translators of the anthology of Byzantine ascetic and mystical wisdom known as the Philokalia, published in Venice in 1782 (by the time of Sherrard's death in 1995, four volumes of the English translation had come out; the fifth and last has yet to appear). It is not difficult to discern some links between these diverse interests, but the extent to which they are entwined is made clear in Sherrard's correspondence with George Seferis. Sherrard had planned to publish the letters and had written the introductory essay, though it was his widow Denise Harvey who saw the project to fruition. There are in the ...
The page you have requested is restricted to subscribers only. Please enter your username and password and click on 'Continue'.
If you have forgotten your username and password, please enter the email address you used when you joined. Your login details will then be emailed to the address specified.
If you are not a subscriber and would like to enjoy the
266
issues containing over
10,800
poems, articles, reports, interviews and reviews, why not
subscribe
to the website today?