This review is taken from PN Review 231, Volume 43 Number 1, September - October 2016.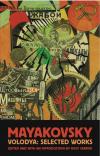 Golden-Tongued
Vladimir Mayakovsky
Volodya: Selected Works
edited by Rosy Carrick
Enitharmon, £14.99
POOR MAYAKOVSKY. A film-star poet during his life – literally, since his good looks earned him silent movie roles – he toured the USSR reading to packed halls. Posterity, however, has not been kind. How could it be to someone Josef Stalin labelled the 'best and most talented poet of our Soviet epoch', an honour Boris Pasternak wryly described as Mayakovsky's 'second death'?

These days, if we think of him at all, it's as a dazzling Futurist wunderkind who never realised his potential, declining into a plodding party hack. As Marina Tsvetaeva dismissively put it, 'his suicide lasted twelve years, […] on the thirteenth year the Poet rose up and killed the Man'.

Rosy Carrick wants us to reconsider. In her lucid introduction to this chunky collection she outlines her aim of presenting 'as balanced an overview as possible of the remarkable diversity of Mayakovsky's work'. This means printing numerous rarely-translated poems, along with lectures, essays and a generous selection of his visual art (though his plays are largely omitted). In particular, Carrick wants to place Mayakovsky in context as a Marxist poet by showcasing more of the explicitly political poems that Western editors have largely avoided. This has one immediately beneficial effect. Mayakovsky is often seen, says Carrick, as a 'proto-punk' whose 'obsession with women is matched only by his longstanding and explicit hatred for domesticity'. In fact, as the introduction convincingly shows, it was old-fashioned bourgeois domesticity that he hated, and which he was intent on replacing with a new, more feminist ...
The page you have requested is restricted to subscribers only. Please enter your username and password and click on 'Continue'.
If you have forgotten your username and password, please enter the email address you used when you joined. Your login details will then be emailed to the address specified.
If you are not a subscriber and would like to enjoy the
259
issues containing over
10,500
poems, articles, reports, interviews and reviews, why not
subscribe
to the website today?