This review is taken from PN Review 231, Volume 43 Number 1, September - October 2016.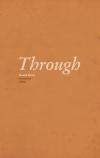 ook, firre, birch, aspe
David Herd
Through
Carcanet,
£9.99
THIS SEQUENCE OF poems and prose focuses on the common increments of language as we travel from space to space: 'a language in transition' that names the particulars 'as the journey went'. Along the Pilgrims Way into Canterbury folk carried language on the road into the city:


There's nothing complicated about it, watching the direction of travel, taking a decision to occupy the terms, since this is where the language takes shape and even as we use it we issue a new demand, outwith, registering the reality that we are in fact the polis.


The opening section of the sequence presents the reader with the Immigration and Asylum Chamber, Taylor House, Rosebery Avenue, EC1R, and here we are confronted by a Dickensian maze. When in Little Dorrit Arthur Clennam sought to locate some truths within the labyrinthine alleys of the Circumlocution Office he was baffled to discover that those who were referred to that fictional Pandemonium 'never reappeared in the light of day'. Within that Office, run by a host of Barnacles, the language of questions was ground through the mills of confusion as 'Boards sat upon them, secretaries minuted upon them, commissioners gabbled about them, clerks registered, entered, checked, and ticked them off, and they melted away.' As David Herd introduces us to the world of Taylor House, we discover that 'The building's question is how best to sever any residual linguistic ties, any intimacies that might have formed, so that the tribunal might perform its task, leaving ...
The page you have requested is restricted to subscribers only. Please enter your username and password and click on 'Continue'.
If you have forgotten your username and password, please enter the email address you used when you joined. Your login details will then be emailed to the address specified.
If you are not a subscriber and would like to enjoy the
259
issues containing over
10,500
poems, articles, reports, interviews and reviews, why not
subscribe
to the website today?