This review is taken from PN Review 231, Volume 43 Number 1, September - October 2016.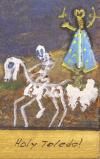 Most stories half check out
John Clegg
Holy Toledo!
Carcanet,
£9.99
JOHN CLEGG'S SECOND collection opens with a chance discovery in the desert – 'Stumbling over that fabled city' – and the tone is set for stories of gloriously haphazard quests, mishaps and experiments that play out mainly in the Southern US states (with the occasional return to Cambridge). Like in his first collection, stories are Clegg's raw material, though they are never told with the mere aim of getting to the end – it's what he emerges with that counts. In 'Guatavita' –


Most stories half check out

then trail off
into the deeper jungle,
from which an advance party

staggers occasionally, clothes
rotted onto their back and a hot scheme
for undermining some legendary mountain.


– we have what could be a metaphor for the poet at work. Stumbling and staggering is his modus operandi, giving himself up to the story, getting in deeper than he could have hoped for and emerging with his quarry: fresh, remarkable language.

The title of the collection neatly embodies the poet's love of colloquial language. Here it is specifically US-bred phrases that he lands on with bull's-eye precision, as in 'Road-kill Ocelot':


Scuzzy, says the daughter
of the man who stopped
to see what we
were standing round.


But above all it is Clegg's lyrical flights that capture (lasso?) the attention. In the road poem 'What Grows, and Some Divisions' lines of ...
The page you have requested is restricted to subscribers only. Please enter your username and password and click on 'Continue'.
If you have forgotten your username and password, please enter the email address you used when you joined. Your login details will then be emailed to the address specified.
If you are not a subscriber and would like to enjoy the
271
issues containing over
11,000
poems, articles, reports, interviews and reviews, why not
subscribe
to the website today?