This review is taken from PN Review 231, Volume 43 Number 1, September - October 2016.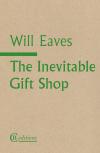 In Tune
Will Eaves
The Inevitable Gift Shop: A Memoir by Other Means
CB Editions
£8.99
ON FIRST TURNING the pages, one might wonder why Will Eaves has chosen to subtitle this gathering of poetry and short prose the way he has. There is no immediate sense in which a collection of what looks like bric-a-brac merits being called a 'memoir'. The clue, however, lies in the eighteen-line poem 'Rise', which introduces the book and which makes up one of its eight alternating sections of poetry and prose. 'Rise', reminiscent in tone of the early John Ashbery, speaks of seemingly disparate elements as sounds clash and come together:


The cloud that echoes
And the plane that enters
Through a golden gap
Resonate, sound a chord,
No one heard coming.
This is now, or as good as.
We should welcome it.
There should be hats […]
Even cows drone along.
Up close, it's terrible,
A base-metal racket
But not here, afar, not
Now everyone is in tune. (p. 3)


There is a desire to affirm here, and this desire is present throughout the collection, even when regret and sadness are expressed. The affirmation lies in the acceptance, and celebration of, all the tenuously-connected fragments that make up a life. The autobiography lies not in the telling of a journey from A to B, with some complications along the way to keep us interested, but rather in the way it traces a life through a shifting and kaleidoscopic series of memories and reflections. Eaves shifts from subject to subject with each poem ...
The page you have requested is restricted to subscribers only. Please enter your username and password and click on 'Continue'.
If you have forgotten your username and password, please enter the email address you used when you joined. Your login details will then be emailed to the address specified.
If you are not a subscriber and would like to enjoy the
267
issues containing over
10,800
poems, articles, reports, interviews and reviews, why not
subscribe
to the website today?