This review is taken from PN Review 231, Volume 43 Number 1, September - October 2016.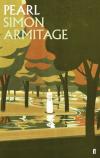 Concatenating
Pearl
Simon Armitage
Faber & Faber
£14.99
THE FOURTEENTH-CENTURY dream-vision known as Pearl, described by Ian Bishop in his Pearl in its Setting as 'the most highly wrought and intricately constructed poem in Middle English', is a moving, allegorical elegy for a lost infant girl. The poem is brilliant both in its ornate formality and in the charged feeling across its lexical patterning as the eddying imagery of longing and loss rises and swirls through its 1212 tightly-stitched lines – a simultaneity of effect that Simon Armitage captures with striking subtlety in his new translation. Acutely alert to the tone and craft of the original, Armitage illuminates for modern readers the complex echoing ways in which the poem's rhyming, chaining, alliterative tail-in-the-mouth narration attempts to contain and nail the terrible circularity and preciousness of grief:


To think of her colour, now clad in clods…
oh black soil, you blot and spoil
my precious pearl without a spot.

Spices must thrive and spread in that spot
where rot and ruin enrich the soil […]


In mode and tradition, Pearl is a work of Christian consolatio. Falling asleep in a flowering burial garden, a bereaved father is to be consoled in a dream by the sight of (and slightly haranguing doctrinal argument from) his lost pearl, now dwelling with Christ in heavenly bliss across a jewelled river. Many of the poem's most electric moments, however, are those which dramatise the dreamer's bewilderment and incomprehension – his incapacity, even unwillingness, to be consoled. His single, insatiable desire is to ...
The page you have requested is restricted to subscribers only. Please enter your username and password and click on 'Continue'.
If you have forgotten your username and password, please enter the email address you used when you joined. Your login details will then be emailed to the address specified.
If you are not a subscriber and would like to enjoy the
271
issues containing over
11,000
poems, articles, reports, interviews and reviews, why not
subscribe
to the website today?