This review is taken from PN Review 231, Volume 43 Number 1, September - October 2016.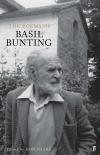 Lean Words
The Poems of Basil Bunting
edited by Don Share
Faber & Faber
£30 hardback
WE HAVE a 'Bunting Revival': there is a biography, Burton's A Strong Song Tows Us (Infinite Ideas, 2013), and a selected letters is under construction. In this context, Richard Caddell's Complete Poems (Bloodaxe, 2000) is – in compliance with Bunting's wishes – a rather bare text: four and a half pages of introduction and nothing but Bunting's notes by way of commentary. Don Share's The Poems of Basil Bunting is therefore long-awaited on two separate counts: not only because a scholarly, critical, variorum edition of this major modernist poet has long been required, but also because this edition has for many years been imminent, a ghostly vessel forever breasting the horizon. Now it has come alongside and the introduction sets out Share's purposes with commendable clarity. Bunting reproved annotation and rejected additions to his official corpus along with any attempt at biography; he nevertheless annotated his poems, explained them in autobiographical terms, and carefully provided uncollected material to scholars, so his scruples, scrupulously recorded, are justifiably overridden here. Indeed, it is hard to imagine an editor more scrupulous and thorough. Matters of punctuation that might seem merely issues of house or national style are meticulously recorded. In addition to the school poems and limericks (one newly discovered) justifiably relegated to an appendix in Caddel's edition, there are the two new 'uncollected overdrafts' (Bunting's term for his variant of translation) printed in Share's Bunting's Persia; a section of 'Fragments and False Starts' (some of which contain material from other poems and some of which are utterly nugatory) including a variant of 'The ...
The page you have requested is restricted to subscribers only. Please enter your username and password and click on 'Continue'.
If you have forgotten your username and password, please enter the email address you used when you joined. Your login details will then be emailed to the address specified.
If you are not a subscriber and would like to enjoy the
266
issues containing over
10,800
poems, articles, reports, interviews and reviews, why not
subscribe
to the website today?