This review is taken from PN Review 231, Volume 43 Number 1, September - October 2016.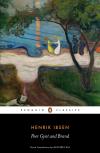 Henrik Ibsen
Peer Gynt and Brand
Verse translations by Geoffrey Hill
Penguin Classics
£10.99
PUBLISHED LESS THAN two weeks after his eighty-forth birthday, Geoffrey Hill's adaptation of Ibsen's Peer Gynt stands in contrast with his earlier adaptation of Brand, commissioned by the National Theatre nearly four decades ago. Hill's Brand and Peer Gynt, published as one volume, are headed by an introduction by Janet Garton, and followed by an afterword taking the shape of an interview by Kenneth Haynes about the process of translating Ibsen. While Hill acknowledges that for both adaptations he has used literal annotated versions of the plays – Inga-Stina Ewbank's for Brand and Janet Garton's for Peer Gynt­ – his version of Peer Gynt marks a shift away from the short lines and oblique rhyming pattern of Brand, and towards an incorporation of greater variety in both line length and rhyme scheme into his verse.

Thus Hill's rhymes are at times humorous and playfully engaging, as in 'when you swagger about / the village, you lout', and 'you little shite! / […] That's to requite!', and at times loaded with a sense of grappling tenacity, rendered acoustically through the use of an adapted accentual rhythm, reminiscent of Anglo-Saxon poetry, as in Aase's lament: 'Everything pitched against me and against him – / earth, sky, the mountains that stand so grim'. Whether he complicates the original Dano-Norwegian pattern by substituting end-rhymes ('Lunde / […] hunde') with internal rhymes ('[t]hey fought like dogs, the rogues'), simplifies the structure by replacing imperfect rhymes ('sider/ […] blunder') with perfect end-rhymes ('side/ […] slide'), or attempts to echo the original ...
The page you have requested is restricted to subscribers only. Please enter your username and password and click on 'Continue'.
If you have forgotten your username and password, please enter the email address you used when you joined. Your login details will then be emailed to the address specified.
If you are not a subscriber and would like to enjoy the
266
issues containing over
10,800
poems, articles, reports, interviews and reviews, why not
subscribe
to the website today?