This review is taken from PN Review 231, Volume 43 Number 1, September - October 2016.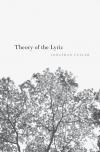 Harvest of a Lifetime
Jonathan Culler
Theory of the Lyric
Harvard University Press
£29.95 hardback
WHAT IS A lyric poem? The standard answer is: a dramatic monologue. This definition became dominant in twentieth-century teaching and criticism and persists today. It originated in the desire to discourage an over-ready identification between the 'I' who wrote the poem and the 'I' who may feature in it, to avoid what the New Critics dubbed 'the intentional fallacy', to disconnect poetry from vulgar 'biographism'; but, in Jonathan Culler's view, it restricts our understanding and appreciation of the full range and distinctive qualities of lyric poetry. In this book, he sets out to challenge the results of 'the strange process by which the dramatic monologue has come to serve as the implicit model for the lyric in general in Anglo-American criticism and lyric pedagogy'. He also locks on to a further target: the 'unnecessary presumption of much lyric theory and pedagogy: that the goal of reading a lyric is to produce a new interpretation'.

Culler considers nine 'hypercanonical lyrics of the Western tradition': Sappho's 'Ode to Aphrodite'; Horace's Ode 1.5 addressing Pyrrha; the opening poem of Petrarch's Canzoniere; Goethe's 'Heidenröslein'; Leopardi's 'L'infinito'; Baudelaire's 'À une passante'; Lorca's 'La luna asoma'; William Carlos Williams's 'The Red Wheelbarrow'; and John Ashbery's 'This Room'. From these, he draws out four key elements of lyric poems. Firstly, they do not so much 'embody voices' as 'create effects of voicing, of aurality'; secondly, they are not primarily representations of events, even when they supposedly recount past occurrences, but are themselves events that take place in the real time of the reading, the lyric present; thirdly, they have a ritualistic rather than ...
The page you have requested is restricted to subscribers only. Please enter your username and password and click on 'Continue'.
If you have forgotten your username and password, please enter the email address you used when you joined. Your login details will then be emailed to the address specified.
If you are not a subscriber and would like to enjoy the
271
issues containing over
11,000
poems, articles, reports, interviews and reviews, why not
subscribe
to the website today?