This review is taken from PN Review 230, Volume 42 Number 6, July - August 2016.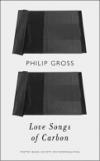 Calm Stars

Philip Gross
Love Songs of Carbon
Bloodaxe Books, 2015 (£9.95)
Love Songs of Carbon explores what it is to be a mind in an aging body, a self mysteriously and precariously alive in the physical world. As the title suggests, Gross combines lyrical subjectivity with science-based reflection.

Extended metaphors evoke the outer world's impact on the mind, as in this comparison of childhood days to raindrops:


each hung from the dark top lip of window,

sometimes glittering, more often grey,
with an upside-down world in it, tiny and shivering.


They often address the fraught relations both between the body and the mind, and within the body and mind themselves:


This body,

brute
fact, given thing

that winces sometimes
from the mere jolt of itself


Time's pressure is keenly felt, in ways that bring together hard biological observation and the suggestiveness of the poetic image:


Translucence

: with time
the skin thins; we become more see-through
as if the drip
of it, passing, was diluting us.


The last two quotations illustrate how Gross experiments with layout to control the way his poems are spoken. Such fine-tuning has a price. It can work brilliantly to capture movements of thought or movement in the visible world, but in weaker poems can seem fussy and restrictive. Even in strong ones, by limiting the reader's freedom to speak the words in different ways, it limits the ...
The page you have requested is restricted to subscribers only. Please enter your username and password and click on 'Continue'.
If you have forgotten your username and password, please enter the email address you used when you joined. Your login details will then be emailed to the address specified.
If you are not a subscriber and would like to enjoy the
271
issues containing over
11,000
poems, articles, reports, interviews and reviews, why not
subscribe
to the website today?