This review is taken from PN Review 230, Volume 42 Number 6, July - August 2016.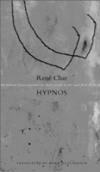 The Scattered Treasure

René Char
Hypnos: Notes from the French Resistance (1943–44) translated by Mark Hutchinson
Seagull Books, 2014 (£14.50)



René Char
The Inventors and Other Poems translated by Mark Hutchinson
Seagull Books, 2015 (£14.50)
Often remembered as 'the poet of the Resistance', René Char was in fact a significant poetic figure well before and well after the period of the Nazi occupation of France. It is a virtue of these small, elegant volumes published by Seagull Books and masterfully translated by Mark Hutchinson that, in addition to the wartime writings of the first, the second offers important texts from other periods, both early and late, of Char's career.

It is nonetheless the journal Char kept during his time as head of a resistance network that has received the most attention. Titled Hypnos, the work is made up of 237 fragments or feuillets, and it communicates an acutely visceral sense of what a poetic sensibility such as Char's observed and endured. The work is published in English translation only and does not include the French texts. The translations, made in response to what Hutchinson calls the 'ungainliness' of previous Char translations, do in fact read as English texts in their own right.

The fragments are sometimes described as aphoristic or lapidary, although neither term does justice to the diversity of the entries, for included among them are longer narrative pieces that vividly describe events associated with Char's activities when he was in charge of landing operations and parachute drops in his region of Provence. In a short preface to this work, Char himself maintains that the notes 'owe nothing to self-love, the short story, the maxim or the novel'. They were written, he maintains, 'under stain, in ...
The page you have requested is restricted to subscribers only. Please enter your username and password and click on 'Continue'.
If you have forgotten your username and password, please enter the email address you used when you joined. Your login details will then be emailed to the address specified.
If you are not a subscriber and would like to enjoy the
271
issues containing over
11,000
poems, articles, reports, interviews and reviews, why not
subscribe
to the website today?