This review is taken from PN Review 230, Volume 42 Number 6, July - August 2016.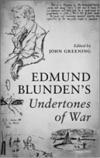 Going over the Ground
Edmund Blunden's Undertones of War Edited by John Greening

Oxford University Press, 2015 (£30)
Edmund Blunden's Undertones of War, one of the crop of books that appeared around the tenth anniversary of the end of the First World War, has never been out of print since. The war indeed remained Blunden's constant theme; in his long and prolific writing life he went over and over that contested ground, in sorrow and pride, in bewilderment and suppressed fury.

The rich hinterland of the text is mapped with care and sensitivity in this excellent scholarly edition by the poet and critic John Greening. Most readers now will probably be familiar with the Penguin Classic, which reprints the 1930 text, in fact the ninth impression or 'third edition'. Greening reprints the 1928 edition – written in Japan with only some notes and three old maps as aid – with textual variations from subsequent editions, and explains various references – Blunden is a naturally allusive writer – as well as drawing on associated writing, early and late. An example of textual variation a few pages into the book is Blunden's 1928 remark that in a black ditch of drying mud 'were to be seen a variety of old grenades brown with rust.' Later editions add, 'tumbled in with tin cans and broken harness.' The substantial variations are always of this detailed sort, as though re-reading enabled Blunden to recall more precisely. There are a myriad minor variations – 'a' for 'the' and so forth – which the editor no doubt had to include, having decided to make a complete record of the texts, but ...
The page you have requested is restricted to subscribers only. Please enter your username and password and click on 'Continue'.
If you have forgotten your username and password, please enter the email address you used when you joined. Your login details will then be emailed to the address specified.
If you are not a subscriber and would like to enjoy the
266
issues containing over
10,800
poems, articles, reports, interviews and reviews, why not
subscribe
to the website today?