This review is taken from PN Review 230, Volume 42 Number 6, July - August 2016.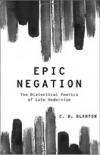 Boiled Cabbage Cut into Sections
C.D. Blanton, Epic Negation: The Dialectical Poetics of Late Modernism

Oxford University Press, 2015 (£41.99)
The jacket copy to J. H. Prynne's 1968 collection, Kitchen Poems, opens with an abridged quotation from Eliot's wool-gatherings on culture: 'Culture, as Eliot observes, "includes all the characteristic activities of a people: dog races, the pin table, Gothic churches, and the music of Elgar."' Compare this to the full unabridged piece, which appeared in book form as Notes Towards a Definition of Culture in 1948. Culture is 'all the characteristics and interests of a people,' Eliot writes, including:


Derby Day, Henley Regatta, Cowes, the twelfth of August, a cup final, the dog races, the pin table, the dart board, Wensleydale cheese, boiled cabbage cut into sections, beetroot in vinegar, nineteenth-century Gothic churches and the music of Elgar.


With limited space, cuts of this kind are inevitable. But where exactly these amnesic excisions were made is telling; lost are the references to the days out – 'Derby day', 'Henley Regatta', 'Cowes' and the 'cup final' – neatly segmented between commas that serve to reinforce the class distinctions they uphold. Gone as well are the portable foodstuffs that help to sustain the mirage of an archaic England that, by 1948, had been all but destroyed by the war.

The jacket copy to Prynne's volume betrays this fact. It reads like a bombed-out city, where the destruction goes unmentioned – not even alluded to in the form of editorial ellipses. This is late modernism: a city undergoing repair, but healthy in its own right.

Berkley's associate professor of English, ...
The page you have requested is restricted to subscribers only. Please enter your username and password and click on 'Continue'.
If you have forgotten your username and password, please enter the email address you used when you joined. Your login details will then be emailed to the address specified.
If you are not a subscriber and would like to enjoy the
266
issues containing over
10,800
poems, articles, reports, interviews and reviews, why not
subscribe
to the website today?