This review is taken from PN Review 229, Volume 42 Number 5, May - June 2016.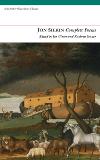 Shaping a Republic
Jon Silkin, Complete Poems, edited by Jon Glover and Kathryn Jenner Northern House/ Carcanet 2015
The title of Jon Silkin's Complete Poems is an understandable misnomer. In compiling this vast selection of work by a long-lived, productive and latterly neglected poet, Jon Glover and Kathryn Jenner had to choose among so many drafts and alternative versions that, as Glover says, 'it was difficult, and on occasion impossible, to decide which version to include'. The editors also worked through a hundred metres of archived material. The Complete Poems is far more comprehensive than previous volumes, such as the 1980 Selected.

This book adds to Silkin's published collections much previously unpublished material, presented in chronological groupings that appear immediately after corresponding books. It starts with Silkin's earliest collections, The Portrait (1950) and The Peaceable Kingdom (1954). A dialogue develops, across Silkin's half-century career, between his seen and previously unseen work, and leaves the reader wondering why the poet did not collect so many effective poems. It also means that we must temper our views of less successful poems and regard them as part of a working process, but one that bears witness to the extraordinary productivity of a mind seemingly compelled to write. The appendices include alternative drafts of 'The Jews in England', 'A good farmer', and 'Air that Pricks Earth with Life'. Occasionally variations of a poem appear in parallel. In the case of 'Air that Pricks Earth with Life', Glover tell us, 'Silkin had been working on it for around five years' before it appeared in its entirety.

The result is a body of work that includes numerous notable ...
The page you have requested is restricted to subscribers only. Please enter your username and password and click on 'Continue'.
If you have forgotten your username and password, please enter the email address you used when you joined. Your login details will then be emailed to the address specified.
If you are not a subscriber and would like to enjoy the
266
issues containing over
10,800
poems, articles, reports, interviews and reviews, why not
subscribe
to the website today?