This review is taken from PN Review 229, Volume 42 Number 5, May - June 2016.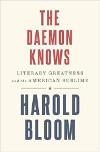 Vision & Vacuity
Harold Bloom, The Daemon Knows: Literary Greatness and the American Sublime
Oxford University Press
£22.50


'Without vision, criticism perishes.' This aphorism in Harold Bloom's latest book is the credo that underpins his life's work. But it is a reversible claim: without criticism, vision may perish, dissolving into the intense inane. Like Bloom's other books from The Western Canon (1994) onwards, The Daemon Knows aspires to the condition of vision but sometimes balloons into the empyrean where sight strains to perceive shape, or falls, deflated, to earth. We expect late Bloom to be overblown; but a more focused book might have conveyed his key ideas and insights – he still has some – more forcefully.

The core of Bloom's argument is that twelve writers created the American sublime and represent 'our incessant effort to transcend the human without forsaking humanism'. As he puts it, in what he admits is a simplistic way: 'the sublime in literature has been associated with peak experiences that render a secular version of a theophany', a visible manifestation of God or a god to humankind: 'a sense of something interfused that transforms a natural moment, landscape, action or countenance'. As the allusion to 'Tintern Abbey' indicates, the sublime is not confined to the USA: but, for Bloom, 'America, the Evening Land, favours more drastic sublimities than Europe, abrupt splendours such as Dickinson's "certain slant of light" or Stevens's auroras', both of which are 'illuminations of discontinuity'.

Bloom divides his designated dozen into pairs and devotes a chapter to each duo: Whitman and Melville, Emerson and Dickinson (the one woman), Hawthorne and Henry James, Twain and ...
The page you have requested is restricted to subscribers only. Please enter your username and password and click on 'Continue'.
If you have forgotten your username and password, please enter the email address you used when you joined. Your login details will then be emailed to the address specified.
If you are not a subscriber and would like to enjoy the
266
issues containing over
10,800
poems, articles, reports, interviews and reviews, why not
subscribe
to the website today?