This review is taken from PN Review 228, Volume 42 Number 4, March - April 2016.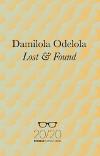 Moved
Nichola Deane, Trieste, Smith/doorstop, £7.50
Lucille Gang Schulklapper, Gloss Flarestack, £4.50
Paschalis Nikolaou, 12 Greek Poems after Cavafy, Shearsman, £6.50
Amy Evans, Cont. Shearsman, £6.50
Damilola Odelola, Lost & Found Eyewear, £5.00

O room for absence
open to the sky! […]
And if dust touches you
it sleeps in an eyelid bed, in half a world
singing lullay: be here be whole be gone.

These lines, from Nichola Deane's 'Bowl', reveal a marvellously original writer of English poetry. I can think of very few poets writing now who would risk, and achieve, those final six words, light-footed as song. Her fearless exclamations, which I admire, suggest that she is also deeply moved by the work of Rilke. In the title poem of her second pamphlet, Trieste, 'Rilke's shade' speaks to 'the sea wind […] And weather, like a Spartan messenger, / runs in, breathless'. There is no full stop.

Deane's poems move distinctively. Her lines are often dense with alliteration, borne along determinedly by internal rhymes. 'Fig Ghazal' describes 'the women' 'with their force, drift, thrift'. 'The poured-out song you hear' is 'muffled on the other side of the locked door'. Lines which might be narrowly personal move into a wider world, of terrible repression.

I only have two reservations about this outstanding second pamphlet. Deane can be drawn to write by visual art, sometimes a dangerous inspiration. Will phrases such as 'Rothko-black' move readers who have not seen Rothko's paintings? Trieste also includes one poem 'after lines by Anne Carson', followed by another which depends upon an (acknowledged) phrase from Alice Oswald: 'unmasked light'. As a writer and reader, I have many anxieties about both kinds of poem. As, happily, ...
The page you have requested is restricted to subscribers only. Please enter your username and password and click on 'Continue'.
If you have forgotten your username and password, please enter the email address you used when you joined. Your login details will then be emailed to the address specified.
If you are not a subscriber and would like to enjoy the
267
issues containing over
10,800
poems, articles, reports, interviews and reviews, why not
subscribe
to the website today?