This review is taken from PN Review 228, Volume 42 Number 4, March - April 2016.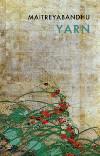 'This love that quietly lifts'
Maitreyabandhu, Yarn
(Bloodaxe) £9.95

In an article entitled 'The Value Archetype', Maitreyabandhu argues that poetry and Buddhism are part of the same spiritual discipline, a means to help us discover the 'jewel of human value'. His acclaimed first collection, The Crumb Road, pursued this discipline with what Sean O'Brien in the Guardian called 'a rich, melancholy modesty', in which the imperfectly remembered stories of his youth and family were told with quiet but telling detail, allowing the joys and sorrows to speak for themselves. In particular, the story of a short but intense love affair with another boy, told in a series of poems called 'Stephen', has a seering, unforgettable quality that I can only ascribe to its jewel-like honesty.

Yarn purports to be a rather different sort of book. The cover blurb quotes the OED definition of yarn as 'a long or rambling story, especially one that is implausible'. But the book is again full of affectionate, wry portraits of his siblings ('my sister was very small, her face a lantern / all her own...' – Lanterns), his mother ('my sister on my father's lap. She'd wait / until he nodded off, then put her foot down.' – My Mother, Driving) and again of his father ('you gave your life to coaches and Swarfega /…soon you had three sons / climbing trees and reading war comics' – Your most Unlikely Son). Again, there are references to uncertainty ('someone has kicked the ladders away' – Sunday); to 'the dolphin of depression' (The Dolphin); also to love, as in this beautiful first stanza of ...
The page you have requested is restricted to subscribers only. Please enter your username and password and click on 'Continue'.
If you have forgotten your username and password, please enter the email address you used when you joined. Your login details will then be emailed to the address specified.
If you are not a subscriber and would like to enjoy the
271
issues containing over
11,000
poems, articles, reports, interviews and reviews, why not
subscribe
to the website today?